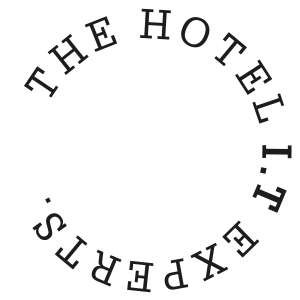 IT Project Management
Helping you implement your business objectives saving you time and money
Fluent2 helps you design the ideal IT system for your hotel, then we make it a reality.
Whether you're starting a brand-new development or upgrading an existing one, you get to take advantage of our years of experience. We know what's possible, we know what works well and we know how to deliver it. Whatever your vision is for the tech in your hotel, we can help you achieve it.
From big-picture thinking, to the nuts, bolts and switches that your system is run on, we have it covered. It means you get a reliable IT service for your hotel that works every time. We excel in delivering your project on time and on budget, using the best technology available that won't become obsolete. We ensure that your IT system integrates with the rest of your hotel, enabling you to offer your guests a seamless technological experience during their stay.
Here's how we work:
Detailed sales proposal
Our proposals don't come along with 20 pages of generic waffle that no one reads, everything we say is particular to your project. No guessing game trying to work out whether something detailed in the proposal is actually within what you are buying.
Everything is detailed on our quotations down to individual part level with manufacturer part codes where they exist. This means that you have transparent pricing that is easy to verify. Where clarity is needed you will get this within the quote. Smoke and mirror free zone.
Project kick off meetings or call
One agreed we will formally kick off the project with a call or meeting and minute what has been discussed. Actions will be assigned and followed up to ensure that the project is delivered on time.
Third Party Coordination
We will typically liaise with any third-party suppliers directly who are either a fundamental part of the project or affected by the change. In a hotel environment this is essential to ensure that downtime is kept to a minimum and systems are configured to meet varying third-party requirements.
During this process we will:
Understand third party technical system requirements
Enquiry about system version changes and any user training needs as a result
Issue technical information such as IP addresses, network ports, VLAN details
Coordinate installation configuration, implementation, training and go-live dates
Project documentation
Once the research phase is completed documentation is issued. This will vary from project to project, however in general we will issue a customer facing document summarising the information gathered during the research phase including a project timeline.
From a technical perspective for small to medium sized projects we will input information into our in-house documentation system called IT Glue and on larger projects we issue a full low-level design (LLD) document.
IT Glue is fully customer facing at request with secure two-factor enabled access.
Implementation Phase
It's all in the planning. A well planned and documented project will minimise ambiguity and risk. You will have both a Project Manager and a Technical Project Lead assigned to the project – the latter being typically onsite and actively working during the period of change.
When a major change happens, which could be more than once during a project, the Technical Project Lead will be during and after to deal with any unplanned issues. Where end users could be affected, there will typically be a floor walker assigned the following day.
Post Project
With large projects, where formal handover documentation is required, this will be updated to reflect any changes that were made during the project.
For smaller projects, IT Glue will be updated and information either made securely available online or via static PDF issue.
In all cases, where Fluent2 is providing ongoing technical support services, a formal handover will be given from the project team to the general support team.